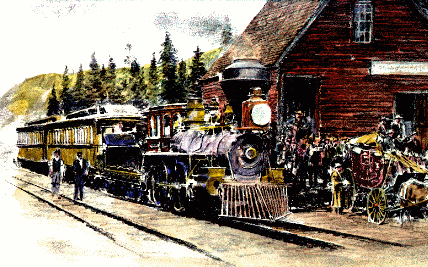 CENTRAL PACIFIC RR AT CISCO, 1865 By George Mathis
Water Color by Carol Mathis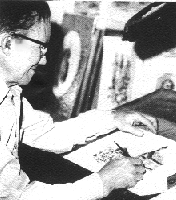 George Mathis - 1909-1977

Carol Mathis (George Mathis's Daughter)
---
All of the Mathis art begins as a piece of black and white art, whether pencil on paper for an offset print or pencil on a plate for an original lithograph. In the catalog we note under each sketch "original lithograph". If not so noted it is an "offset print".


---
ABOUT THE HAND COLORING
Most all of the scenes you see here can be ordered black and white or hand watercolored. All scenes are painted by Carol Mathis. Each is individually colored keeping history and reality in mind. The CENTRAL PACIFIC RR AT CISCO as seen at the top of the page and DONNER LAKE are watercolor by Carol Mathis, please compare it to the black and white to see which you'd prefer.
---
George Mathis Prints
---
OLD KENTUCK: Sierra County, Studio signed 10"x13" BW $12.50 WC $25.00 17"x22" BW $25.00 WC $50.00

---
HOME ON THE RANGE: 10" X 12' BW/$12.5 COLOR $25.00

---